This was actually the thought that popped into my head when I could not find a hair tie this morning. I am not proud but I have talent of finding the lamest excuses for not working out. I typically talk myself out of one run a week. Right before I sat down on the couch to ditch my run, I decided that I am done with the excuses. I love to run and I never regret working out, however, I do regret the lame excuses and not working out.
So I got my sneakers on and headed out for a run with my hair flipping in the breeze sans elastic. It was a slow start but it felt great to be on the road. I was planning on heading to the gym for a treadmill speed work out but instead I headed here to do some speed work around the 1/2 mile loop. Much better scenery then the gym or a track.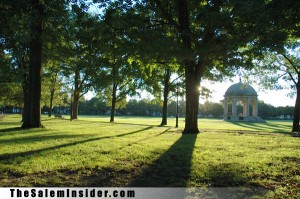 I was motivated all day to not make any lame excuses and just do what I needed to get done. Tonight the motivation/ no excuses motto continued. When I got from home at 6pm, I put on my work out clothes on and finally at 8:30pm ( after doing all the night time/ next day routine) I did this.
Normally I would have made some lame-o excuse like the jumping would bother my neighbors tv watching or that I would have to take another shower but tonight I just did it and I am happy I did!
Did you make excuses? What did you do to overcome the excuses??